Braille and Large Print RestaurantMenus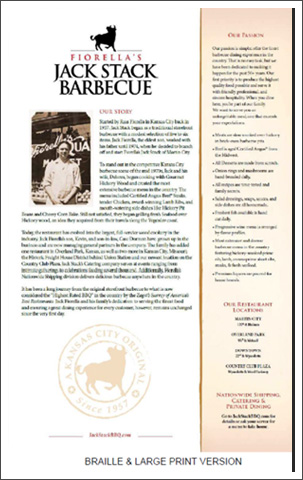 Individuals with visual impairments cannot read most restaurant menus. With few exceptions, area restaurants do notprovide Braille or large print menus for their customers who are blind or visually impaired. Some points to consider:
More than 750,000 individuals in Kansas report difficulty seeing or are unable to read a daily newspaper. These same individuals may experience further frustration with the typically low-light environments found in many restaurants. (Also see our Blindness Information page for statistics on blindness and visual impairment amongadults in Kansas.)
USA Today recently reported that nearly half of Americans over 65 develop atleast one chronic eye-related disease. As Baby Boomers age, this number is expected to rise. This group, well known for its preference of dining out, may be most appreciative of a restaurant's willingness to accommodate them by providing appropriate menus.
Americans with Disabilities Act (ADA) regulations for public accommodations include Braille and Large Print materials as effective methods of ensuring that no individual with a visual impairment is denied service.
However, restaurant owners are becomingincreasingly aware of the difficulties that exist for patrons who struggle with standard small-print menus, as well as how to better serve blindpatrons.
The Kansas Braille Transcription Institute is now offering menus in both Braille and large print. Two examples ofrecent menus we have produced are shown below (click the thumbnails to viewlarger images of the menus):
For a tax-deductible donation of $50.00, KBTI will reproduce your menu in Braille and/or large print. For orders, pleasesee our order form below. For more information on how to have your menu or otherdocuments produced in Braille, or Braille with large print, please contact us at
info@kbti.org. Please note that one page of print usually translates into 2-3 pages ofBraille.
Partial List of Restaurant MenusProduced by KBTI in Braille and/or
Large Print:
Angelo's
Atlantic City Country Kitchen
Bennigans
Black Canyon Grill
Burger Barn
Capitol Plaza Hotel
Carlos O'Kelly's
Chili's
Chipotle
Chuck E. Cheese
Cici's Pizza
Dogs Family Sports Bar and Grill
El Paisa
El Rodeo Mexican Restaurant
El Torrero
Fat Ernie's




Fiorella's Jack Stack Barbecue
Granite City Food and Brewery
J and R Snack Bar
Jack Stack BBQ King's Buffet
Kwan Court
La Chinita
Le Train Bleu
Lotus New York
Marbella Cafe
Margarita's Cantina
Mission Hill Country Club (Terrace Grill and Club Room)
Moe's Sub Shop
Old Chicago
Old Mill Tasty Shop
On The Border




Paradise Donuts
Red Bean's Bayou Grill
River City Brewery
Riverside Cafe
Ryan's Steakhouse
Saigon
Taco Loco
Teddi's City Market and Deli
The Huckleberry
The Keeper Cafe
TJ's Burger House
Twin Palms Pasadena
Walkway Cafe
Wichita Fish Co.
WOW Cafe and Wingery